Chamber Members and Affiliate Partners News JUNE 2021
Here's the latest news and updates from Eumundi Chamber members and our Affiliate Partners…
---
Do you have some news, special offers or hot deals to share but aren't a member of Chamber... Join now to take advantage of this member benefit today!
FIND OUT MORE ABOUT MEMBER BENEFITS HERE... 
Members can send through their news and announcements for the next edition to vice.president@eumundichamber.com.au
Well done to the ORIGINAL EUMUNDI MARKETS on their recent partnership with Australian Made as an official 'retail supporter.
In a recent press release, Original Eumundi Markets Executive Director, Michelle Jones said,
"We are absolutely thrilled to partner with Australian Made as a retail supporter, to support and promote the makers of handcrafted Australian made products. Visitors to the Original Eumundi Markets will now quickly identify our stallholders who are selling genuine handmade Aussie products."
Massive congrats to the OFF BEAT MUSIC FESTIVAL TEAM and THE IMPERIAL HOTEL for securing $425,000 in Federal grant funding to deliver two events in 2021 and 2022, which will feature approximately 100 artists performing a variety of venues across Eumundi.
In a recent media release by Ted O'Brien, Federal Member for Fairfax, Offbeat Festival Director Alice Jones said
"The Offbeat Music Festival gives us the chance to come together as a community again and celebrate the diversity of artists and talent we hold so dear here in Eumundi."
2. The Countdown is on... Save the Date for This Year's Hinterland Craft Beer Festival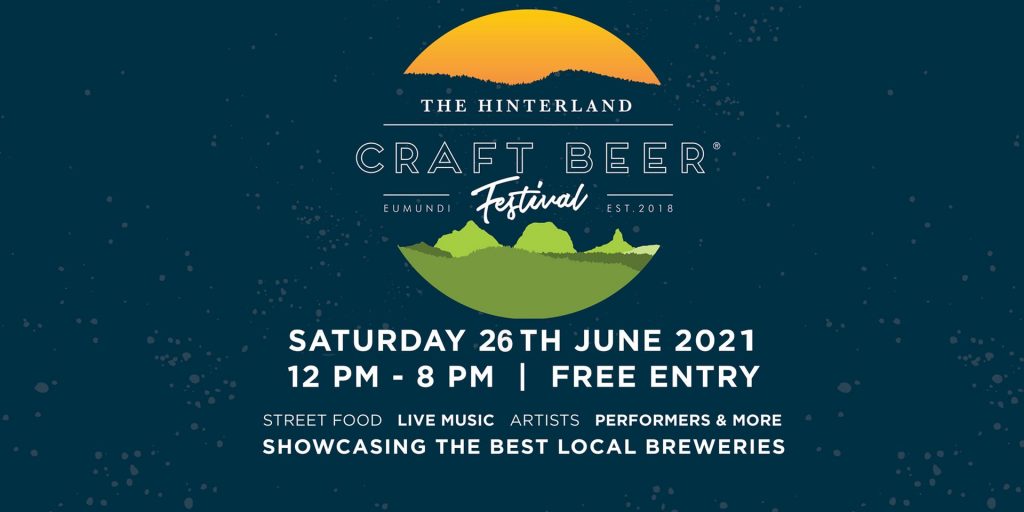 There's an air of excitement around town with the annual Hinterland Craft Beer Festival coming up later this month!
The team at The Imperial Hotel Eumundi are excited for you join them from 12 noon on Saturday 26 June for a FREE family friendly event featuring Sunshine Coast's top brewers, tasty street food, and a program of live music and grooves into the evening until 8pm.
If you love making beer, learning about beer, talking beer, and, of course, tasting beer, then this is certainly an event you won't want to miss. And if Gin is more your thing, the Gin Bar has been added this year, serving up their house blend Folktale gins.
COVID restrictions apply with condition of entry that attendees provide info for Track & Tracing purposes, as per current regulations. Please ensure you have the Check In Qld App to ensure a smooth entry process.
3. VSC's NEW Website is launching soon! Get on board or miss out, FOR REAL!
Visit Sunshine Coast (VSC) will be launching a brand-new website REAL soon! Visitsunshinecoast.com is being redesigned and rebuilt to be faster, deliver personalised web experiences and most importantly to market the region's tourism and events experiences.
All Sunshine Coast tourism businesses and event organisers will have their information featured FREE through their Australian Tourism Data Warehouse (ATDW) listing. With over 60,000 visitors per month to the current site, the new platform will have a strong focus on conversion with 'book now' buttons leading direct to operators.
IMPORTANT: to ensure you are listed and promoted on the new website, please check that:
a) Your business is listed with ATDW (Its FREE and only takes 15minutes)
b) Your listing is up-to-date and optimised.
To get started, or to log in, CLICK HERE 
If you require assistance, VSC is here to help! Please get in touch with Anke at members@visitsunshinecoast.com or 07 5458 8800 (business hours).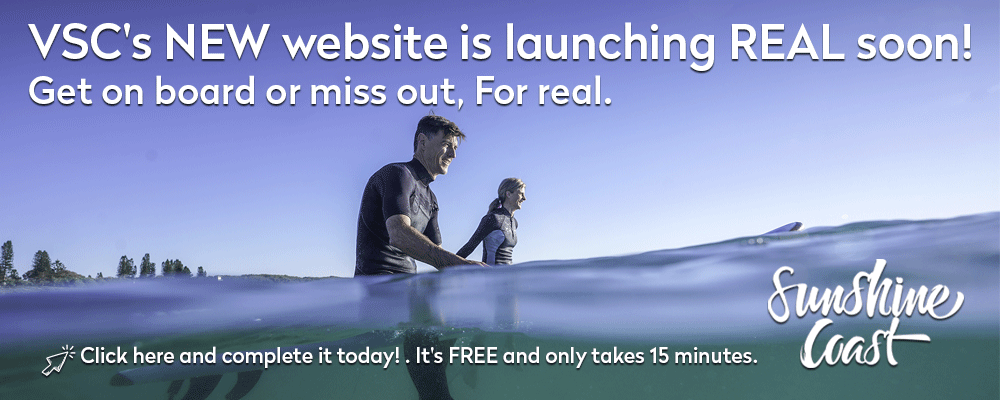 4. Generation Innovation (GI) Challenge Program: Registrations now open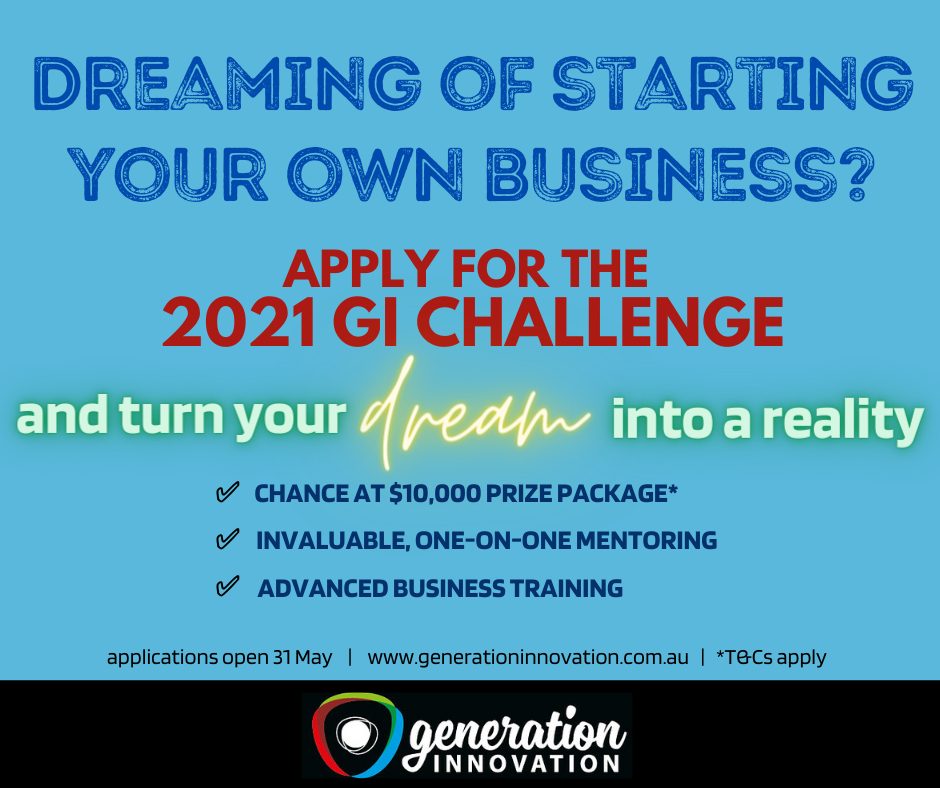 Do you know a young person who dreams of launching their own business on the Sunshine Coast?
Well, they're in luck because the @Generation Innovation Challenge is back and searching for people between the age of 15 and 25 to get involved.
Founded and led by Ted O'Brien MP, Member for Fairfax, GI is an innovation driven program that connects young entrepreneurs with the marketplace and gives them the tools they need to launch their own business.
The program runs from July through to November for a selected group of entrepreneurs between the ages of 15 and 25. Over this time the participants hone their business idea and battle it out for the first place prize of a $10,000 package to launch their own business.
5. New Sunshine Coast Planning Scheme: Nominations open for community reference group (CRG)
Nominations are now open for Sunshine Coast Council's Community Reference Group (CRG), to support the development of the new Sunshine Coast Planning Scheme.
The group will play an important role in shaping community engagement opportunities as council prepares its new planning scheme, which is expected to be completed in 2024.
Council's intention is to form the CRG comprising of an independent chair and up to 10 community members. Community members would represent a range of interests and demographics to ensure the group is representative and inclusive of the diverse Sunshine Coast population.
Expressions of interest are due by 4.30pm on Friday 18 June 2021.
Visit council's New Sunshine Coast Planning Scheme Project webpage (www.sunshinecoast.qld.gov.au/newplanningscheme) for details and to download an Expression of Interest pack.
6. CCIQ Pulse Survey – 1 Year After Lockdown - The Pulse results have just been released!
Here's an extract from the Sunshine Coast Pulse Survey Report March Quarter 2021 by CCIQ. To find out more, click the 'Read Full Report' button below.
"The Sunshine Coast has witnessed a change to consumer behavior due to COVID-19 and the Queensland Government's health response strategies. Some of these changes have been for the better while others have been for the worse..."
| | |
| --- | --- |
| KEY FINDINGS | KEY THEMES |
| 1.    Business confidence in the forward outlook of the Queensland economy is nearly four times higher than during the March quarter of 2020. | 1.    Businesses call for State and Territory Governments to adopt a single approach to border declarations and treatment of COVID-19 hotspots to ease travel uncertainties. |
| 2.    More than 1 in 3 respondents reported declining profitability as costs continue to rise and as businesses recover from losses incurred during the financial year. | 2.    Businesses report consistently high activity easing concerns around the conclusion of JobKeeper payments from the 28th of March. |
| 3.    The March quarter has marked the fifth consecutive quarter where the level of demand and economic activity has ranked as the greatest constraint on business growth. | 3.    Effective vaccination program becomes necessary to unlock business potential across Queensland and remove the need for business restrictions and lockdowns. |